Your Full 2021 Digital Event Guide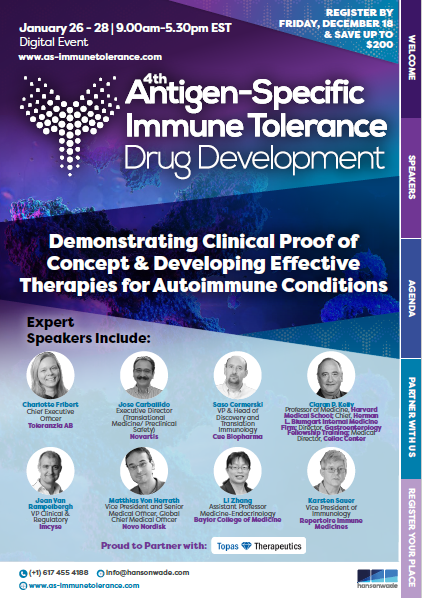 Download Your Event Guide for More Information On:
Across the community, there is rapid movement to make antigen specific therapeutics a reality for patients. The life changing potential of theses therapeutics is what fundamentally brings the industry together to this summit with leaders, biotech, pharmaceuticals and academics sharing their successes and lessons learned.
Read about the critical lessons learned in identifying antigens and epitopes, the intersect and potential of gene therapy and antigen specific immune tolerance induction and more.
Download your copy of the full event guide for:
Insights into the future of immune tolerance, bringing antigen specific immune tolerance therapies to the clinic and the utilization of different approaches

Success stories in overcoming challenges in antigen discovery for complex disease progression

Hear how your peers were revisiting pipelines and shaping their strategy in 2021 in line with the field's latest developments and keep yourself up-to-date with the community and its direction

Full breakdown of interactive sessions and case studies